If you encounter the error below upon starting the application, this is most likely caused by external file hosting applications (Dropbox, OneDrive) on your local machine not giving the necessary file access to the Mi-Plan application to create the client file.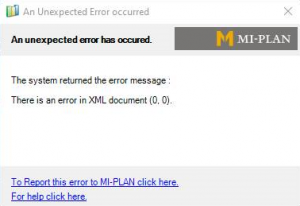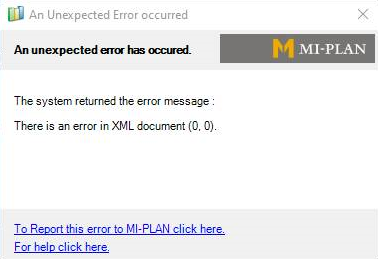 This file creation is imperative to the application running and is ideally resolved through configuring the aforementioned file hosting application. To ensure that the problem is not being caused by the Mi-Plan application, please do the following:
Try starting the Mi-Plan application in "Administrator Mode".
Go to the ""Documents/Documents/Mi-Plan/MI-PLAN" folder path and delete the 'Broker.xml' and 'BrokerData.xml' files. Make sure the application is closed when doing this.
If you do not have a file sharing application linked to all your programs, please follow the link to uninstall the software. Once you have successfully uninstalled the software you can follow this link to reinstall it.